How to Rescue Your Loved One from the Watchtower
Home | Preface | Introduction | "Rescue" from a Religion? | Don't Delay--Act Today! | Overall Strategy | Techniques that Work | Tools to Use | Step by Step | God's "Prophet" | A Changing "Channel" | Doctoring Medical Doctrines | Strange Ideas Taught in God's Name | "God's Visible Organization" | Providing an Alternative | Can This Marriage Be Saved? | When Children Are Involved | Warning: The Life You Save May Be Your Own | Afterwork: Gradual Rehabilitation | Appendix: Resources & Support Groups
< PREVIOUS — NEXT >
---
Chapter 9
Doctoring Medical Doctrines
Although the doctrinal flip-flops outlined in our previous chapter may have adversely affected the spiritual or emotional health of some Jehovah's Witnesses who lived through the changes and were confused by them, other alterations in Watchtower teaching have caused followers severe physical problems, even death.
An obvious example, of course, is the refusal of blood transfusions, introduced as a requirement in the mid-1940s and since then become a trademark of Jehovah's Witnesses. But before examining that teaching, we do well to look further back at the sect's earlier statements on medical matters.
Back in 1913, the July 1 issue of The Watch Tower carried this notice on page 200 (shown here as a photocopy of page 5268 in a bound volume of reprints compiled in 1920):
A Cure for Surface Cancer
 … We have recently learned of a very effective and simple remedy for cancers which show themselves on the surface of the body. We are informed that a physician, after testing this remedy, paid $1000 for the information, and that he has established a Cancer Hospital which is doing good work. The recipe has come to us free and we are willing to communicate the formula, but only to those who are troubled with surface cancers and who will write to us directly, stating particulars. No fee will be charged, but in order to protect the sufferers, we require a promise that they will not sell the formula to others, nor receive pay for the use of it, nor communicate the formula to anybody. Any one known to be a sufferer can be informed of the terms on which the prescription is obtainable through us.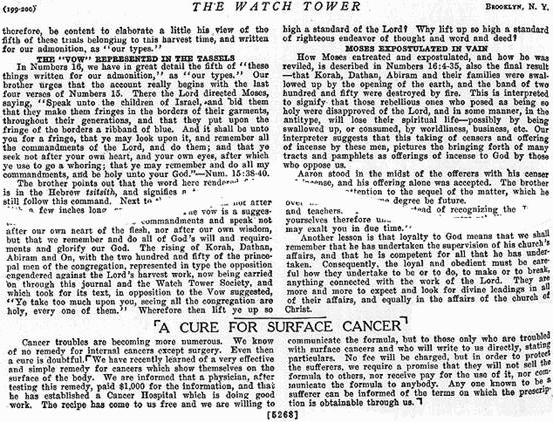 Unfortunately, we have no documentation as to just what this so-called cure consisted of, or how many readers wrote in for it. But it is clear as we look back from the end of the twentieth century that a real cure for cancer was not introduced to mankind by the Watchtower Society in 1913.
Eighteen years later an article in the Society's Golden Age magazine (later renamed Consolation and today called Awake!) stated, "Vaccination is a direct violation of the everlasting covenant that God made with Noah after the flood" (2/4/31, p. 293).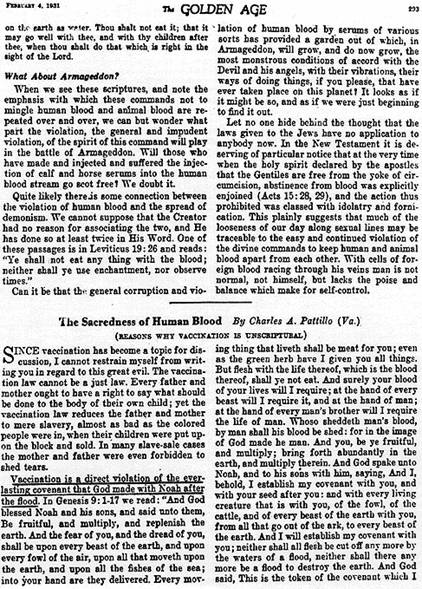 From then on, followers were deadly serious about avoiding vaccination. An elderly Jehovah's Witness outlined for me what parents she knew did in situations where a vaccination was legally required for admission of their children to school. The child would be taken to a Witness doctor or other cooperating medical professional who would use acid to burn a "vaccination" mark on the child's arm. If more "proof" were needed, phony documents could also be prepared to supplement the mark on the arm.
After teaching the doctrine as "God's law" for some twenty years, the Watchtower Society quietly dropped it in the early 1950s. Since then, the children of Jehovah's Witnesses have been freely vaccinated. In fact any Witness today who presented false evidence of vaccination to his or her child's public school authorities would risk discipline from a congregation judicial committee.
Another new medical doctrine was born in 1967, when The Watchtower banned organ transplants, calling them "cannibalism":
Those who submit to such operations are thus living off the flesh of another human. That is cannibalistic. However, in allowing man to eat animal flesh Jehovah God did not grant permission for humans to try to perpetuate their lives by cannibalistically taking into their bodies human flesh, whether chewed or in the form of whole organs or body parts taken from others (The Watchtower, 11/15/67, p. 702).
The Awake! magazine of June 8, 1968, further amplified on this, saying:
There are those, such as the Christian witnesses of Jehovah, who consider all transplants between humans as cannibalism … (p. 21).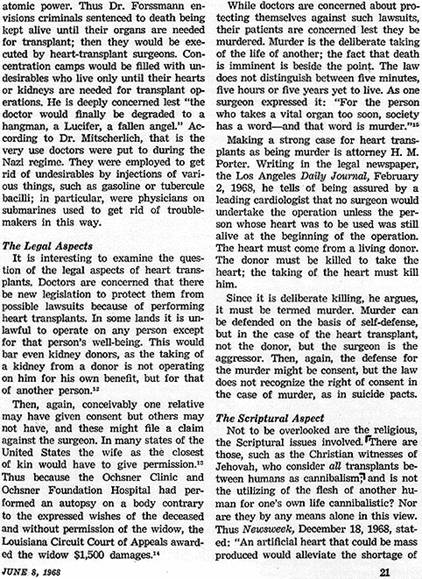 From then on JWs who required a cornea transplant to retain their eyesight had to refuse the procedure. (A former elder in England once wrote telling me that he resigned after seeing a woman in his congregation go blind, in obedience to this command.) Likewise one who needed a kidney transplant to stay alive had to spurn that life-saving procedure also.
But the horror of it all became apparent in 1980, when the Watchtower Society again reversed itself and lifted its ban on organ transplants. No longer would a JW who received a kidney or a cornea face the punishment of disfellowshiping. Instead, The Watchtower said:
 … there is no Biblical command pointedly forbidding the taking in of other human tissue.… It is a matter for personal decision. (Gal. 6:5)  The congregation judicial committee would not take disciplinary action if someone accepted an organ transplant … (3/15/80, p. 31)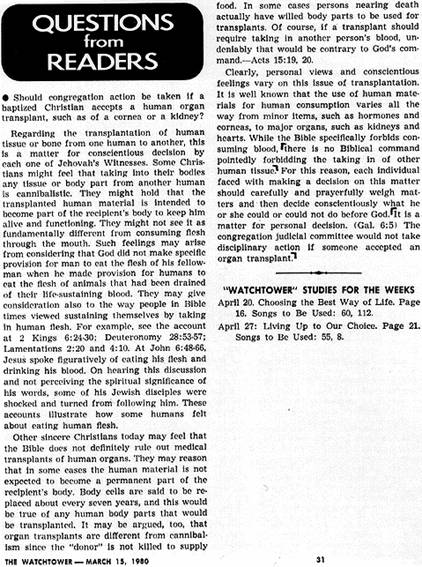 No apology was given for those who lost their sight, their health or their life by following the organization's previous instructions in the years between 1967 and 1980.
The ban on blood transfusions has been in force from the mid-1940s until now. Based on the Watchtower Society's unique interpretation of Jewish dietary laws that prohibited "eating" blood, the organization forbids Witnesses to accept a transfusion even when life is at stake. Interestingly, Leviticus 3:17 commands the nation of ancient Israel, "that ye eat neither fat nor blood" (kjv). The Society generally ignores the reference to fat, allowing followers to eat fat if they wish. But the reference to "eating" blood is broadened to include medical transfusions. Virtually no one else understands it that way; even orthodox Jews, to whom the law was originally given and who meticulously drain blood from their kosher food, will accept a transfusion.
When discussing this with your JW loved one you might say something like this: "Of course, each individual must follow his or her own conscience in this matter. But, given the Watchtower's track record of prohibiting vaccinations for over twenty years, then reversing itself, and later banning organ transplants for thirteen years before again changing the interpretation, one can only wonder how long it will be until the Society reinterprets the Bible verses it now uses to forbid transfusions. Remembering those who suffered or died for lack of a vaccination or transplant, only to see those teachings later abandoned, it would seem a poor risk to trust one's life to the Watchtower's present interpretation on transfusions."
In discussing the documents presented here, you could use tactful questions to help your JW loved one draw an even broader conclusion: an organization whose changing doctrines damage physical health could hardly be relied upon to keep you spiritually healthy.
But be sure not to end the conversation by asking whether he or she is now willing to receive a transfusion. That would be forcing the issue. It may take some time for all of this information to sink in and for the individual to rethink the matter. Remember, too, that your purpose is not to change his or her mind on transfusions; that would be failing to see the forest for the trees. The target of the documentation and discussions outlined in each of these chapters is the Watchtower organization itself—to prove that it is not what it claims to be. Its long history of misleading followers in the area of medical treatment is just one more piece of evidence pointing to that conclusion.