How to Rescue Your Loved One from the Watchtower
Home | Preface | Introduction | "Rescue" from a Religion? | Don't Delay--Act Today! | Overall Strategy | Techniques that Work | Tools to Use | Step by Step | God's "Prophet" | A Changing "Channel" | Doctoring Medical Doctrines | Strange Ideas Taught in God's Name | "God's Visible Organization" | Providing an Alternative | Can This Marriage Be Saved? | When Children Are Involved | Warning: The Life You Save May Be Your Own | Afterwork: Gradual Rehabilitation | Appendix: Resources & Support Groups
< PREVIOUS — NEXT >
---
Chapter 11
"God's Visible Organization"
attorney: "Who subsequently became the Editor of the magazine, the main editor of the 'Watch Tower' magazine?"
fred w. franz: "In 1931, October 15th, as I recall, the 'Watch Tower' discontinued publishing the names of any editorial committee on the second page."
the court: "He asked you who became the editor."
fred w. franz: "And it said—"
the court: "Who became the editor?"
attorney: "Who became the editor when this was discontinued?"
fred w. franz: "Jehovah God."
That exchange took place under oath in a New York court of law in 1940. Fred W. Franz, who became president of the Watchtower Society in 1977, was then one of several leaders sued by a former prominent member. In answer to the examining attorney, Franz asserted that the Watchtower magazine has God as its editor. This gives some idea as to what Jehovah's Witnesses mean when they refer to "God's organization."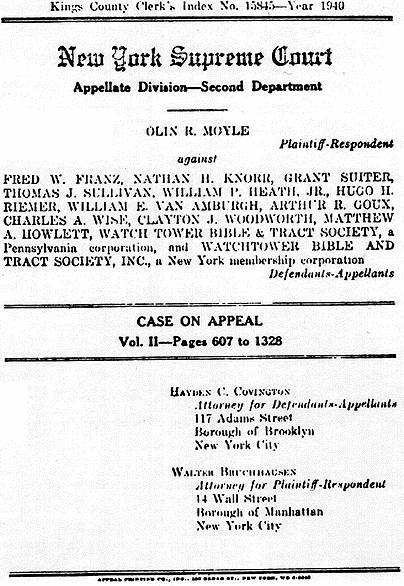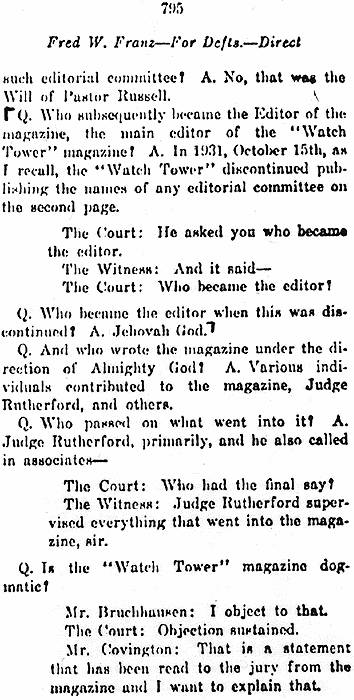 Likewise, note these words of the Society's second president, J. F. Rutherford, published in 1917:
The Watch Tower Bible and Tract Society is the greatest corporation in the world, because from the time of its organization until now the Lord has used it as his channel through which to make known the glad tidings … (The Watch Tower, 1/15/17, p. 22—shown here as page 6033 in a bound volume of reprints compiled in 1920).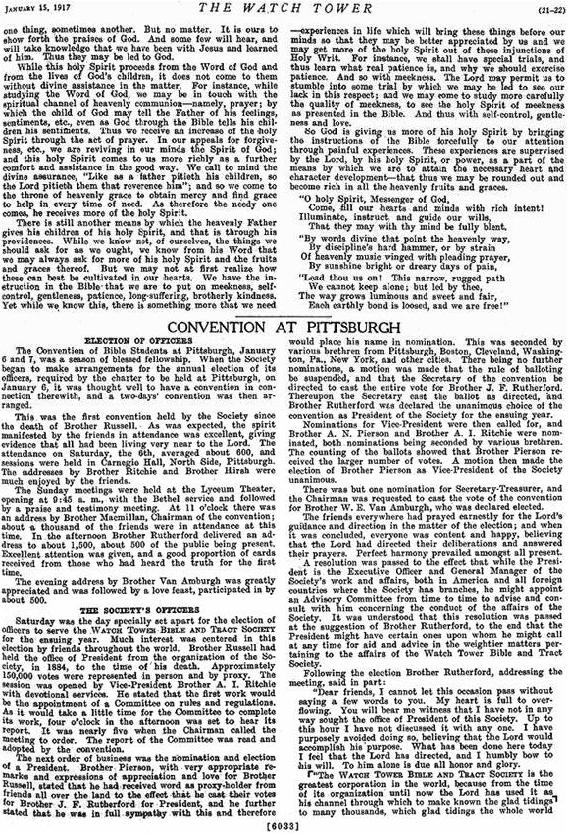 To graphically illustrate this point, The Watchtower of December 15, 1971, actually featured on page 749 an organizational chart much like those used to outline the corporate structure of secular businesses. Only here "Jehovah" occupies the topmost box, corresponding to chairman of the board; in the next box below is "Jesus Christ," as chief executive officer, followed by the Governing Body in Brooklyn, New York, and then the various overseers of the JW hierarchy.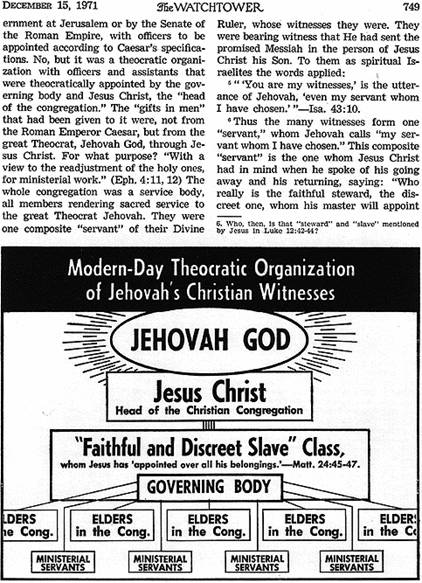 Seen in this way, the organization becomes an extension of God himself, and disregard of organizational instructions becomes tantamount to sin.
According to The Watchtower of November 15, 1981, page 21, the message preached by JWs "includes the invitation to come to Jehovah's organization for salvation." The organization is thus, in effect, the "savior" of the Witnesses.
As to the Watchtower Society's importance relative to the Bible, the sect has also published the following:
 … Thus the Bible is an organizational book and belongs to the Christian congregation as an organization, not to individuals, regardless of how sincerely they may believe that they can interpret the Bible. For this reason the Bible cannot be properly understood without Jehovah's visible organization in mind (The Watchtower, 10/1/67, p. 587).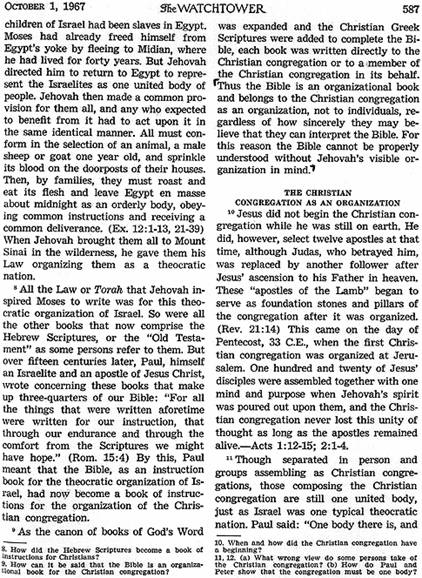 The above statements are important to review with your Jehovah's Witness loved one, to prevent his or her dismissing the evidence presented in our preceding chapters by saying that the organization is simply a group of imperfect men. Yes, imperfect men are capable of false prophecies, doctrinal changes, odd teachings, and so on. But, as we have seen above, the Watchtower organization has made claims for itself that elevate it above mere men.
These claims put the information furnished in the other chapters in proper perspective. As the old saying goes, "The bigger they are, the harder they fall." Or, as the Bible puts it, "Pride goeth before destruction, and an haughty spirit before a fall" (Prov. kjv); "And whosoever shall exalt himself shall be abased … " (Matt. kjv).
Having exalted itself to the station of God's prophet, God's exclusive channel of communication, the only authority on earth capable of interpreting the Bible, and God's visible organization, the Watchtower Society can not simply shrug off as "mistakes" the false prophecies, back-and-forth doctrinal changes, and outright nonsense it has published over the years.